Annual Traditions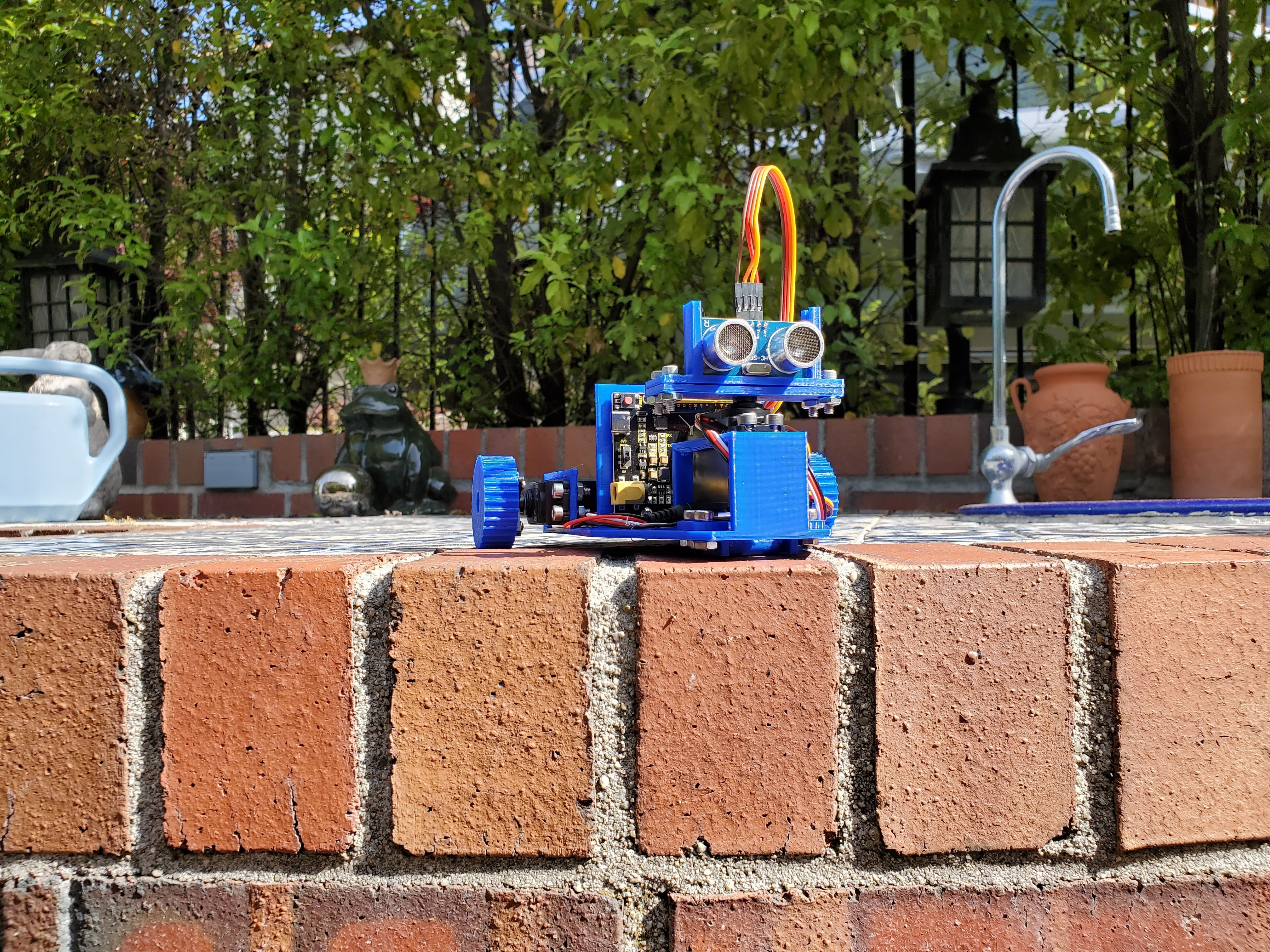 Hosting the Offseason Competition
Each year, we invite the other robotics teams in our community, including high-school FTC teams, middle-school FTC teams, and FLL teams, to participate in a competition of arduino-based robots in the offseason. This can serve as a great way to bring together the robotics community in Piedmont, and it also serves the purpose of getting members of these middle-school level teams thinking about Scotbotics, so when the time comes for them to move on, Scotbotics is the first team that comes to mind.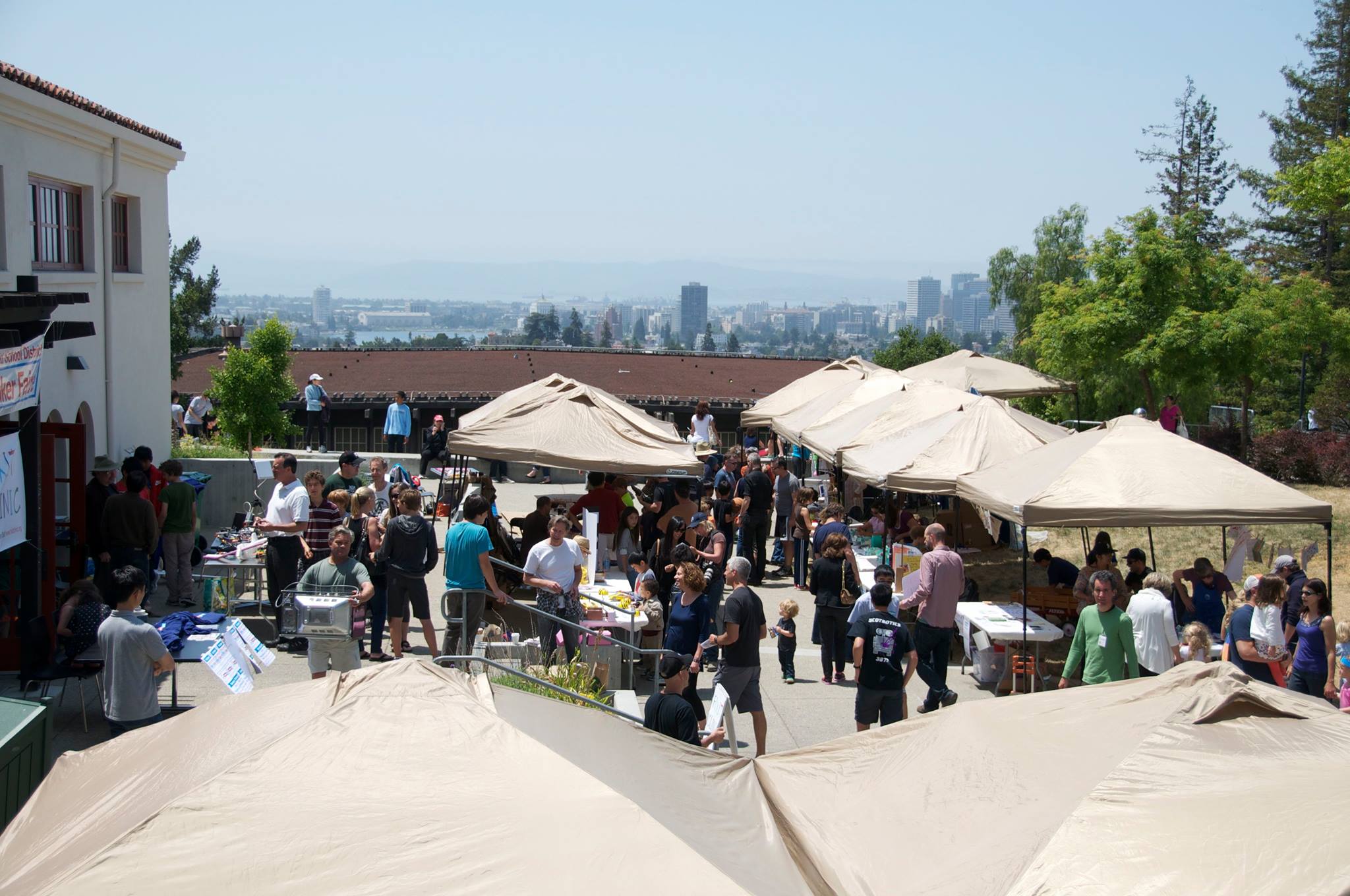 Attending the Piedmont Mini-Maker Faire
Each year, we attend the Piedmont mini maker faire hosted by Piedmont Makers. This is both a great way to participate in our community and also a great way to attract new recruits. Typically there are multiple FIRST teams present, and we encourage kids of all ages to join a robotics team, even if their not yet old enought to be a member of Scotbotics. Some years there will even be a scrimmage at the maker faire between the Piedmont FTC teams, which can draw a fair number of spectators.
Other Notable Things We've Done
Attended the East Bay Mini-Maker Faire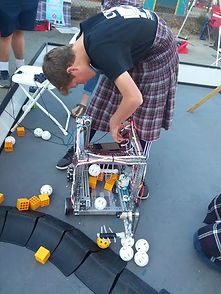 For several years, Scotbotics attended the East Bay Maker Faire at the Park Day School behind Oakland Tech. We let younger kids drive the robot, and told parents about the team and how to join. We also let them know about potential FLL or FTC teams in their areas that they can join as well as first values like gracious professionalism and what it means to compete respectfully.
We talked to around 300 kids throughout the day and most of them agreed to test drive our robot, which provides them a chance to be able to actually be involved with the robot (instead of school where they merely hear about robotics) and gives our robot absolutely fantastic stress testing! (There is absolutely nothing more dangerous than an adorable but very uncoordinated 5 year old throwing our robot into walls).
Hosted a Qualifier at Piedmont High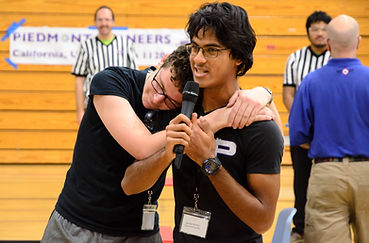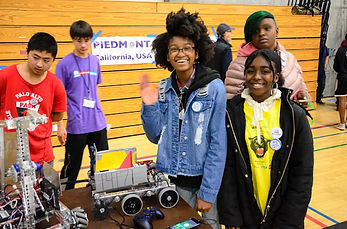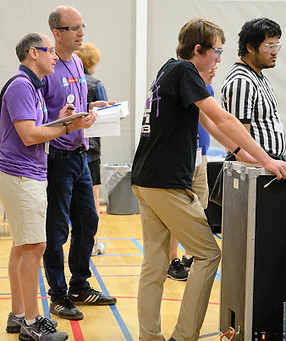 As part of Piedmont's growing involvement and dedication to FTC, we decided to host a tournament. We wanted to create community awareness both within Piedmont and its schools as well as the wider community. At Scotbotics, we have a passion for STEM and we want to share that with as many teams as possible. Although it was a lot of work setting up, hosting and cleaning up the tournament, it was well rewarding and we feel that it made a palpable impact in the community.
The qualifier took month of preparations and the combined efforts of three Piedmont teams, yet was at its core run by Scotbotics. Involved as judges were former mentors of Scotbotics, teachers from Piedmont who want to make attending future tournaments mandatory for computer classes, and engineers or scientists from around the town.
Some of the many challenges or surprises that the team overcame were:
Making sure all 16 teams were checked in on time and could pass robot inspection which somehow happened ahead of schedule
Syncing every team to the same schedule for the entirety of the tournament, even to the point where Sam had the teams help with tear down so everyone could leave before seven.
Our own special twists to qualifiers which included a live singer for the national anthem (a sophomore who Sofia and Sam knew) and a bagpiper to represent Piedmont's mascot the scot
Recruiting the dozens of volunteers needed to run the event. FTC became well-known in Piedmont if only because we needed so many volunteers
So at the end of the day, the tournament was exhausting, but the months of preparation paid off as for the first time, a Piedmont FTC team hosted a qualifying tournament and even Mark (one of the leaders of NorCal FTC) said it was the best ran tournament of the season.
Attended a Piedmont-Wide Scrimmage
On January 25th, Piedmont Makers held a scrimmage in the Piedmont Maker Space for all six of the FTC teams in Piedmont. The teams that attended were Scotbotics, Zenith, Hypercube, Piedmont Pioneers, Blitzbotics, and Cyberscots. Before starting any matches, Each team went up and introduced their team while responding to a set of questions to help everyone get to know the team better. An example of two of the questions asked would be: "What is your team's favorite snack?" and "What has been the most challenging part of your team's season?". There was a wide variety of questions in between those two.
The matches themselves were planned to be a round robin, however this was thrown off because Hypercube did not bring their robot to the scrimmage. All of the teams also had a whole host of different issues with their robots, ranging from problems with the actual hardware to problems with the code. The carefully planned matches turned more into free for all practice time with a timer. Most of the robots, including our own, were not very successful in even the tasks that they historically had been able to do. This scrimmage taught us how much more work we needed to do on our robot and what else we needed to improve. It was also super great to be able to share ideas and a workspace with the other Piedmont teams.